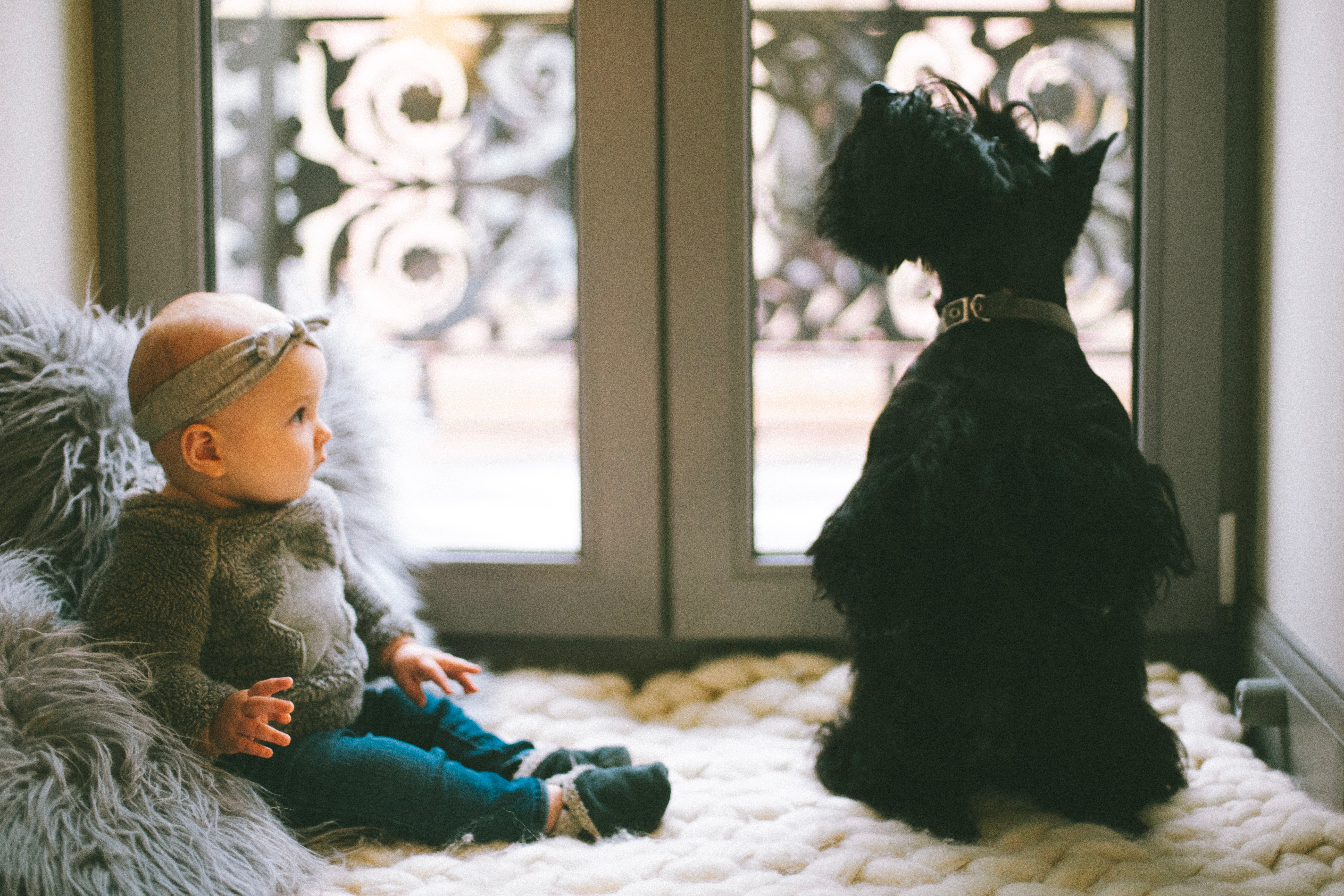 5 tips so that your baby and your dog can live in perfect harmony
Room, stroller, bottle warmer, car seat… You have everything prepared for the arrival of your baby. All ? If your family already has a dog among its members, the arrival of a newborn baby is likely to upset your habits quite a bit.
Don't panic, like many things in life, and especially when it comes to motherhood, one of the keys to success is preparation.
It's a safe bet that over the months your baby and your dog will become the best friends in the world. We explain how …
Prepare the ground before the baby arrives
In many couples without children, the place of the dog is quite special. Unfortunately, we tend to be anthropomorphic and treat our dog as if he were our child. Little or no authority, we allow him every whim and mark no limits. However, dogs are happy when they are offered a framework, a place to occupy in the family hierarchy.
These same faults then push us to relegate the dog to a secondary position when the baby arrives. And dogs, like all animals, being sentient beings, they do not experience this sudden and unexplained distance quite badly.
The good news is that a pregnancy lasts 9 months, so you have time to prepare your dog for the arrival of your baby. If until then your dog was treated like a pasha, we advise you to do things gradually. He will probably be surprised at the change at first, but little by little he will get used to it, and remember that it is all for his own good.
To prepare your little one's room, you will see entering the house full of new objects. Rather than making these things or spaces prohibited for your dog, we invite you to transmit positive feelings to him. He will be curious and will want to sniff them, that's normal. Let him explore the newcomer's universe, making sure that he doesn't break anything, of course, but by not transmitting prohibitions or negativity.
Be especially careful that the dog does not try to appropriate the baby's objects, especially if they are toys. Be sure to differentiate each other's toys, to avoid a possible misunderstanding later.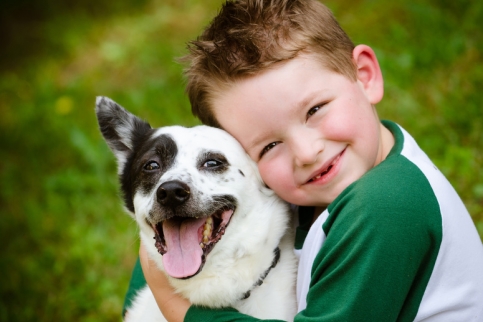 Ensure the well-being of the dog throughout the process
If you need to make changes in your dog's life, don't be too sudden. And while preparations and pregnancy take up a lot of your time and energy, never let your dog go. You chose to bring him into your life, he didn't ask for anything.
Give it time and space. By maintaining their usual walking, eating and sleeping schedules, for example.
Also make sure to set up your basket in a quiet place, but not far from the activity of the home. So that he can rest, but without feeling left out.
The stay in the maternity ward is a delicate moment, where of course you will not be at home to ensure the well-being of your dog. You might be used to sharing it with loved ones when you go on vacation, but with the arrival of your baby, your loved ones will be busy too. You can then think about using the services ofa dog sitter so that your dog is taken care of for a few days. In recent years this solution has imposed itself in force against traditional kennels or dog residences. With a particular dog sitter, dogs find the warmth of a home and exclusive attention. This will help him be less disturbed by your absence. If you can introduce him to the dog sitter beforehand and arrange a walk or a day care beforehand, the stay during the birth of your baby will only go better.
Successful presentations
First impressions are very important, especially when it comes to introductions between your baby and your dog. This will most certainly be done when you return from maternity.
Here are the steps we advise you to follow:
Enter your home quietly without paying too much attention to your dog.

Ask another adult for help, who will put the dog on its collar and leash, and hold it with the leash without tension. At the slightest problem, he can then pull on the leash.

When the dog has calmed down, slowly approach, holding your baby in your arms.

Lower yourself to the dog's level so that he can smell the baby. Approach the child's feet, never his face. After a few seconds, get up slowly.
The whole thing should only last a few seconds. If the dog gets excited or starts to growl, stop everything.
If the first meeting went well, praise your dog (with a pat, a treat) and draw his attention to another activity.
From the first months together to discover the world
During his first months of life, your baby will not have autonomy of movement, which is a positive point for you since you will be able to perfectly control all his contacts with your dog.
Take this step so that your dog associates your baby with positive elements. Take it with you for example when you go out for a walk with the stroller. Keep treats nearby to give your dog one as soon as your baby shows up. If your baby cries a lot, don't panic. Your dog will sense your emotions. Make him see this as something normal.
From the moment your baby begins to crawl and then walk, you will need to exercise constant vigilance. Unfortunately, we deplore too many accidents, which can sometimes end in drama.
It is important to remember that it is never the fault of the child or the dog. Neither is predisposed to be mean. In an accident, the fault is always the negligence of an adult. It is our duty to know how to educate, anticipate and protect both our baby and our dog. Everyone speaks a different language and misunderstandings can happen. Teach everyone to respect the other.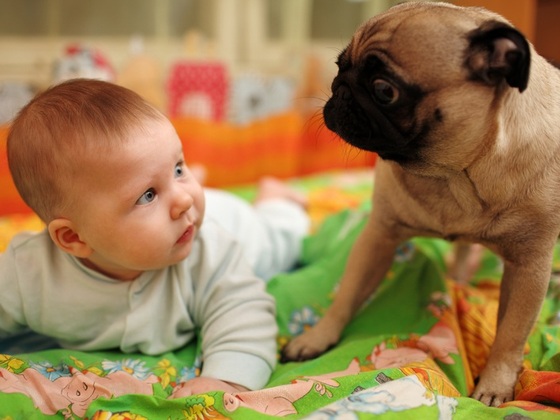 A friend for life
Anyone who grew up with a dog will tell you: it was their first friend, and often their best. Because a dog for a young child, it is a companion animated by an unconditional love, a reassuring presence, a reliable reference point compared to the sometimes complicated human friendships. Many programs use therapy dogs to help children with problems learning to read. The educators invite the children to read to a dog, because it is a listening ear, which reassures and never judges.
What's more, children who grow up with a dog have their immune system strengthened. At the psychological level, the advantages are also numerous: the presence of a dog in the home teaches children a sense of responsibility and respect towards other species.
All you have to do is take full advantage of all these new adventures available to you!
Source link: 5 tips so that your baby and your dog can live in perfect harmony
– Thismumslife.com