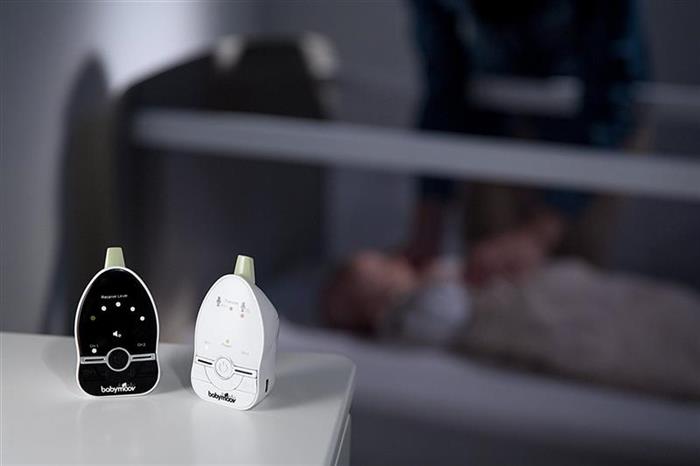 Main advantage:
It is a baby monitor that incorporates revolutionary technology that aims to maximize the protection of babies. This is the Digital Green which favors sound quality while eliminating digital interference. In addition, this process greatly reduces the transmission power.
Main disadvantage:
The batteries used to power the baby monitor in the absence of a mains connection were not provided in the package, despite the cost of this product.
Verdict: 9.7 / 10
The technology adopted makes this baby monitor less harmful compared to other products on the market. It also offers a maximum range of 500 meters.
Main Features Explained
Quality
Magnetic waves are known for their negative effect on humans and especially babies. Babymoov has based itself on this fact when designing this product. Indeed, this baby monitor embeds Digital Green technology which represents a major innovation in the digital field.
This system has the ability to ensure better sound quality and also to suppress digital interference. In addition, it considerably reduces the transmission power so that your baby is better protected.
Therefore, this Babyphone is less harmful compared to other products available on the market. It also stands out for its great range which can reach 500 meters over an open area. This guarantees the reliability of use of this device even if there is a certain distance between your room and that of your child.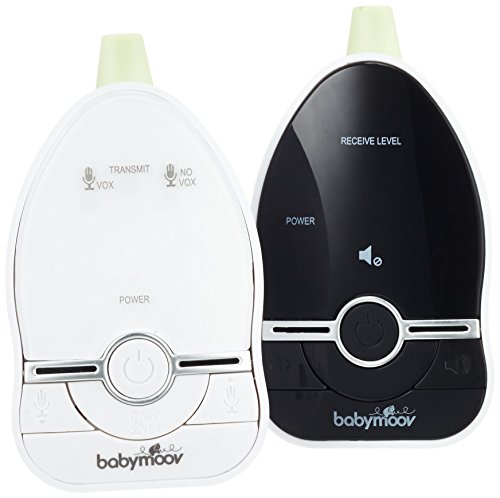 Efficiency
The Babymoov baby monitors could meet the demands of all parents who want to ensure the protection and also the comfort of their baby. In fact, the Babymoov Easy Care can transmit continuously or operate only with the VOX function. In the latter case, the device is activated only in the event of crying. Thus, the wave emissions are reduced, in addition you can save energy.
Since this device is particularly sensitive, it is able to detect crying even if it is placed several meters from your child's bed. You will therefore have the assurance of being warned when it is necessary to reassure the latter. When using this gadget, there will be no nuisance triggering, as it enjoys safer use. Suitable for babies from one month only, this equipment can be powered by mains or batteries.
Multifunctional
Babymoov has taken care to integrate many functions on this product so that its use is complete. That said, the device has two alarm systems, the first of which is audible and the second visual. An automatic channel search system is also integrated into this article in order to simplify its use.
Other useful functions also accompany this Babyphone so that it meets the needs of all parents. Thus, the volume of the sound coming from your child is adjustable according to the level that suits you. Also, a battery level indicator has been added to this gadget so that you can know the right time to recharge.
In addition, it is possible to fix the receiver on your belt thanks to its clip. In this case, you can hear your child's crying no matter where you are in the house. Finally, your baby can sleep peacefully, because the baby monitor is equipped with a night light.
Source link: Babymoov EasyCare review: test and price
– Thismumslife.com