Main advantage:
Thanks to the innovative design of this product, Babymoov inevitably scores points. In fact, this model supports "Digital Green Technology" which makes it possible to reduce wave emissions in order to protect children from any possible harm to their health.
Main disadvantage:
The button for turning on the receiver is also used for launching lullabies. By wanting to check that the baby is sleeping, some parents have accidentally started the music.
Verdict: 9.5 / 10
Embedded in full functionality to monitor your child, this device enjoys a very wide range to be used throughout the home.
Main Features Explained
Quality product
Parents are often anxious because they don't know what is going on in their child's room while the child is sleeping or napping. In order to reassure them, the Babymoov brand which is a reference in the field of childcare provides this baby monitor. It is a baby listening device which is therefore designed to make the daily life of parents more practical. The build quality is also privileged, in particular with the use of the materials of choice.
The Babymoov Premium care is a set consisting of a transmitter that is installed near the cot of the baby in his room. This item requires the power of 3 AAA size batteries. However, it is necessary that you purchase some separately as they are not provided by the seller. That's not all, since there is also the receiver that you take with you. It works on the other hand with the lithium-ion battery. With these two units, you can keep an eye on your baby while taking care of other things.
Safe use
All baby monitors made available to parents are not necessarily equal. It is therefore important to favor a product that offers reliable use, such as Babymoov Premium care.
The brand is getting ahead of the competition by offering this zero-emission product. Indeed, this baby monitor benefits from the "Digital Green Technology" system in order to prevent the emission of dangerous waves which could have an impact on the health of babies. Indeed, it generates up to 33 times less waves than other commercial devices while maintaining its efficiency.
To ensure that this equipment works continuously day and night, the manufacturer has incorporated a low battery indicator. This way you know the right time to reload so you don't interrupt monitoring.
When your baby wakes up, you are discreetly alerted by a simple vibration. Indeed, you might need to bottle-feed him. If you have twins or if your family is growing, be aware that it is possible to acquire an additional transmitter. At this time, you can monitor two different rooms using the same receiver. Either way, the tone is very clear and there is no sizzle either.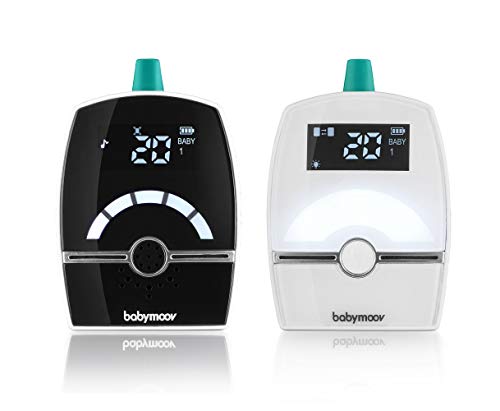 Multifunctionality
Choosing a baby monitor shouldn't be limited to its build quality alone, although this is an important feature that you shouldn't overlook. We also advise you to check the different functions offered on the product that interests you. This way you can determine whether or not its usage matches your usage requirements.
Regarding the Babymoov Premium care, it has a temperature control system. Indeed, it includes an LCD screen to display the temperature in the child's room. In this way, you can examine the quality of the environment in the room to improve the well-being of the baby.
The transmitter also has other very interesting functions. This is the case for the night light which diffuses a benevolent light intended to reassure the child so that he falls asleep more easily. In addition, this element has 6 lullabies that you can activate so that the child easily finds sleep. Note also that it is possible to adjust the volume to the desired level so that the sound does not disturb. In addition, the Babymoov Premium care has a system for adjusting the reception channels. This mechanism further improves the efficiency of this device so that it performs its functions properly.
Accessibility of use
Among the strengths of Babymoov Premium care, we can also note its practicality of use. We can see that the manufacturer has put a lot of effort into making this device accessible to anyone who wants to get it. That said, you shouldn't have any difficulty using it the first time you get started.
Taking advantage of a compact construction, this device is very convenient to use. Indeed, you can put it wherever you want even if your interior is very crowded. Also, the instructions are sufficiently explicit to facilitate use.
This device works with wireless technology, therefore no wired connection is necessary to connect them. In addition, this system offers a maximum range which can reach 1400 m. In this way, it is therefore possible to constantly monitor all the activities of your baby, no matter where you are in the house or even in the garden. This characteristic is essential when you buy a baby monitor since it also determines the comfort of use of your equipment.
Practicality
Babymoov Premium care also supports a two-way system. Indeed, it is not only designed to listen to what is happening. The accompanying walkie-talkie function is used to talk with your baby to reassure him when you are not in the room. When you hear your voice, your baby will fall asleep more peacefully.
In addition, you benefit from the VOX technology which allows you to choose the moment to turn on and off the two devices. You can therefore switch them off when you are away, for example in order to save energy. In addition, the parent unit has a clip so you can hang it on the belt for your hands free. Finally, the sober and modern design of this product as well as its rounded shape allow it to go with all the decorations while being discreet.
Source link: Babymoov Premium Care Reviews – Test and Price
– Thismumslife.com