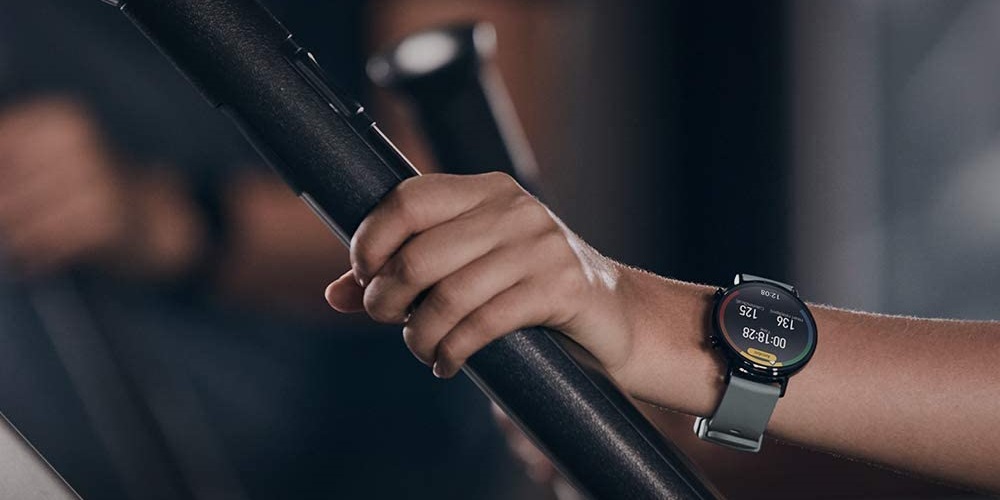 Main advantage:
This bracelet is appreciated for its great versatility. Indeed, it supports the monitoring of your cardiac activities. It also monitors the different stages of your sleep to try to detect possible problems with a view to correcting them.
Main disadvantage:
Certainly there is a wide choice of features. However, the use is quite limited since it is impossible to download other applications. Also, the GPS function can only be used in sport.
Verdict: 9.5 / 10
Ideal for optimizing performance during physical activity, this device guarantees location accuracy with GPS and Glonass functions.
Main Features Explained
Design
The Huawei Watch GT 2 42mm captivates above all with its elegance. If you have seen the 46mm version before then you will find that they are relatively similar in terms of design. However, this 42mm copy is much smaller. You can also notice that it does not have the bezel placed around the screen of its elder. Therefore, there is only a glass with a rounded shape.
In addition, it lost 0.7 mm and gains in refinement. To go even further, the manufacturer has made some improvement to the frame, which is much thinner. All these changes make the watch a little more feminine even though it is recommended for all users.
Manufacturing materials
The manufacturer once again demonstrates the reliability of all its products by carefully choosing construction materials. Indeed, the Huawei Watch GT 2 42mm consists of different materials such as glass, sturdy plastic and metal. As for the bracelet, it is made with genuine double leather.
Regarding the buckle, it is made of steel to add a touch of luxury and solidity. It is therefore a top quality watch. Also, it is possible to choose the type of dial you want. You can opt for a digital or analog model.
Regarding the touch screen, it has a protective glass which is very sensitive to pressure. In addition, there are 2 integrated control buttons on the right side. When you look at the back you will notice the presence of 4 sensors, 2 infrared and 2 optics which are needed to measure heart rate.
In addition, a barometer sensor is placed inside the cover, without forgetting the contacts to the load. In order to adapt to all conditions of use, the Huawei Watch GT 2 42mm has a protection against dust and humidity of 5ATM.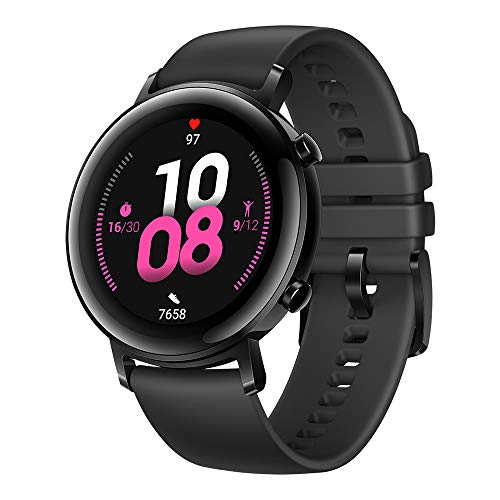 Multifunctionality
One of the strengths of this watch is that it comes with several interesting functions that are very useful in everyday life. Obviously, its main role is to display the time and other standard functions such as the alarm, the timer or the stopwatch. In addition, it supports Huawei TruSeen 3.5 technology which is combined with infrared sensors. This system provides full-time monitoring of your heart rate. Also, she takes care of monitoring all your activities, whether swimming, running or hiking.
In addition, this bracelet allows you to measure data related to your physical condition, in particular the calories you have burned, the number of your steps or the distance you have covered. In addition, be aware that it is also compatible with fitness equipment to adapt to outdoor activities. To do this, the sensors follow the sessions and record the data. That's not all, because it incorporates a compass as well as a barometer.
With flashlight mode, the backlight turns on to have a very bright white effect on the screen. This watch also works as a personal assistant with phone finder. When you move away from your Smartphone or if there is a loss of connection, a beep sounds. Otherwise, it is possible to activate the signal of your mobile phone using the bracelet if you have misplaced it. In this way, your phone plays a melody and repeats the phrase "I am here". So that you can plan your schedule, the Huawei Watch GT 2 42mm even displays the weather.
Comfortable
Designed to be at the cutting edge of technology like most GPS watches for children, the Huawei Watch GT 2 42mm works with an intelligent algorithm system. The latter greatly improves its energy performance in order to offer an autonomy of one week. On the other hand, its 1.2-inch Amoled screen boasts a resolution of 390 × 390 pixels. The optimum brightness level is satisfactory even in full exposure to light. However, its use is relatively the same as with a classic watch.
The Huawei Watch GT 2 42mm also takes care of your well-being with Huawei TruSleep 2.0 technology. This system automatically analyzes your sleep cycles. This makes it possible to better identify any problems with falling asleep in order to offer suitable solutions. It's not over yet, because this bracelet also allows you to benefit from the "TruRelax" whose role is to constantly monitor your stress level. Then, it offers exercises that you can do to better control your stress. Obviously, this function is available on all Android devices.
Geolocation and practical options
Among the strengths of this gadget, there is its satellite geolocation system that works with GPS and GLONASS. In this way, the positioning from this watch is very precise. Since the latter is paired with your Smartphone, you can therefore receive notifications for calls and messages.
In addition, it is possible to control music playback from your laptop, including volume adjustment as well as track change. In addition, you can choose from a large number of sport modes to optimize your performance throughout your workouts. Also, you don't have to worry about the usage, as it is quite fast. That said, you won't have any bug or latency issue.
Source link: Huawei Watch GT 2 Reviews – Test and Price
– Thismumslife.com