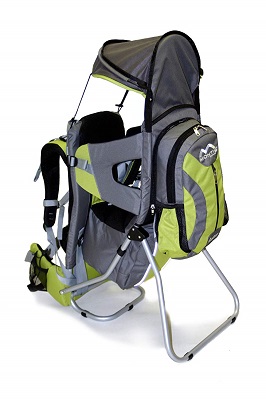 Main advantage
This model is said to be very comfortable overall because of its well thought-out finishes. Indeed, in addition to its reflective parts, the cushions and the ventilated back highlight cozy spaces for your little ones.
Main drawback
Some users questioned the manual for this baby carrier. They find that its content lacks some important information.
Verdict: 9.6 / 10
In addition to providing stability for carrying your child along the journey, its aluminum design guarantees parents long-term use.
Main Features Explained
Versatile
This device allows you to carry your toddlers weighing up to approximately 25 kg. In other words, it will be able to receive children from the age of 1 year to 5 years. As a result, you will no longer be forced to look for other back baby carriers throughout your toddler's childhood.
It will not only be used to welcome your child, but it can also be used for some business belonging to him. Indeed, its integrated compartments constitute means of storage for all the personal effects of the little ones. Among other things, you can find a bottle holder and an integrated and removable backpack. However, depending on your needs, you can change the height of the carrying system to 6 different levels.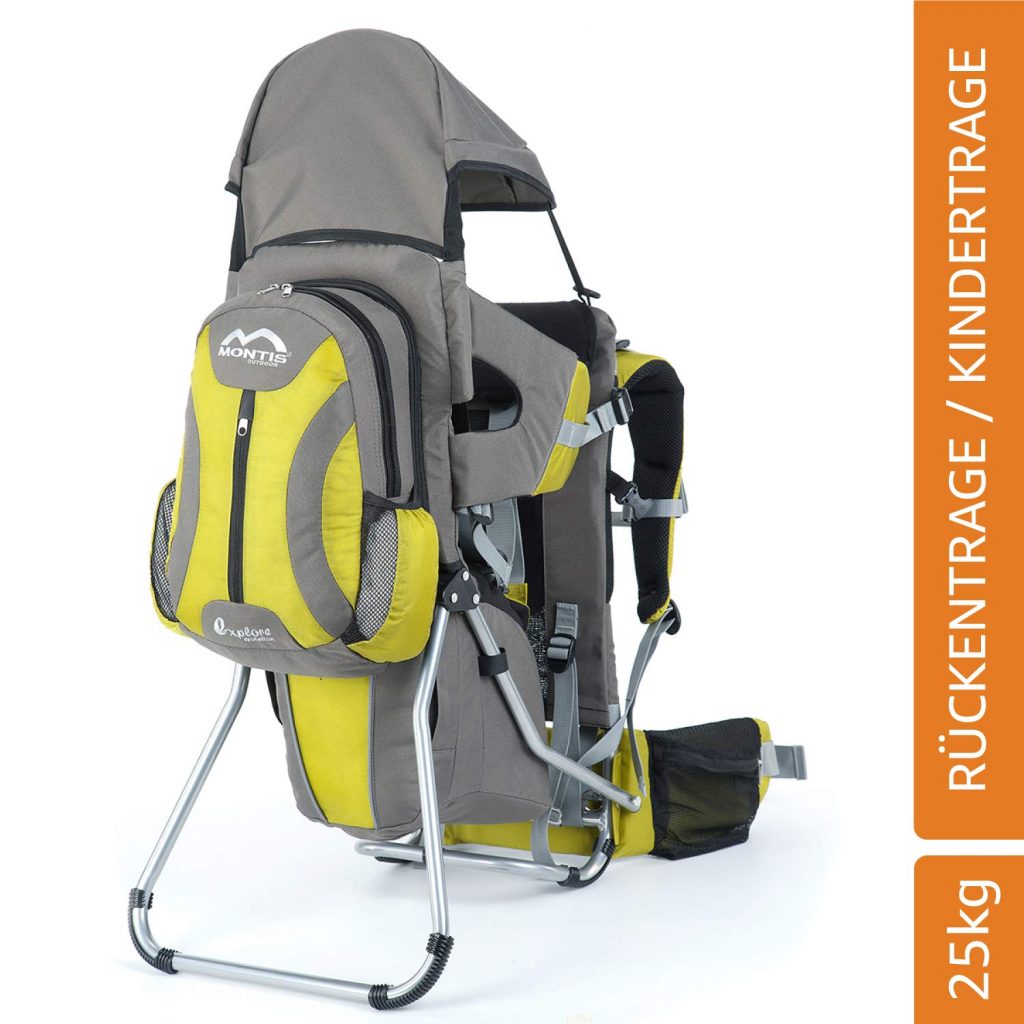 Well thought-out design
For those who love hiking sports, the design of the model has been adapted for these kinds of circumstances. In addition, the aluminum design ensures stability of the entire baby carrier during movement.
In addition, comfort is also at the rendezvous with this model. Indeed, its padding provides convenience to both parent and children. In addition, the reflective parts, the ventilated back as well as the cushions for the forehead will make this device a place of comfort and tranquility for your child.
Good air flow production is promoted in the back part of the device by its mesh materials. In the event of profuse perspiration, the excess of perspiration will be evacuated thanks to its back panel designed from antiallergic fabric.
Safe
Even during rainy and windy periods, the device's sun visor will allow your little one to protect themselves from climate change at all times. Indeed, it is clear that these modifications are the worst enemies of a developing child. Thanks to the umbrella awning and sun visor, your child will be protected from all external factors, whether it is UV rays or light showers.
The predispositions of the unit allow you to walk your child for miles around with ease, while the access on the side allows you to install your child with ease. The five attachment points located on either side of the model will also keep your child in a stable position without any risk of him wobbling from side to side. Moreover, the lumbar belt both ergonomic and wide will be used to properly support your child.
Source link: Montis Explore Evolution review – test and price
– Thismumslife.com