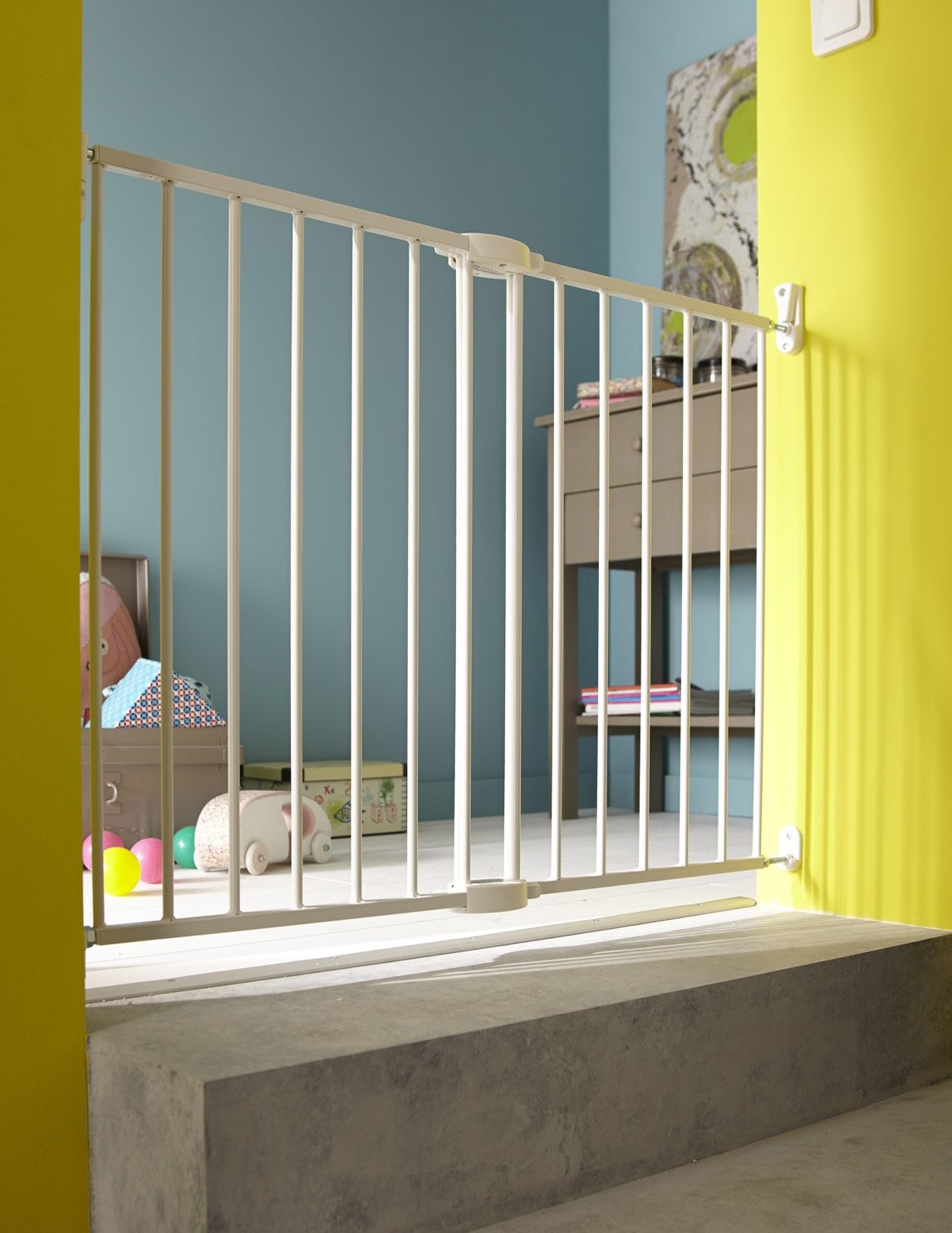 The 3 Best Exterior Security Barriers (Reviews & Tests) of 2022
1. BabyDan Self-supporting Safety Gate Guard Me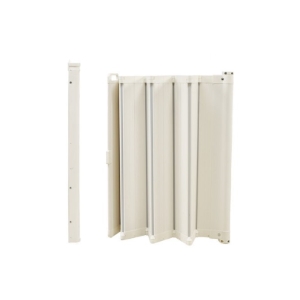 This model can be mounted inside or outside a home between 2 walls, in a hallway or between a door frame. Moreover, it is compatible with almost all existing door widths. More precisely, the reference is suitable for openings from 64.5 to 89 cm for indoor mounting, and from 55 to 79.5 cm for mounting outside the house.
This model complies with European standard EN 1930: 2011. During its design, tests were imposed to ensure that your child does not get their fingers caught in the locking mechanism. At the same time, the barrier was proven to withstand daily use. All these precautions have been taken so that your little one has maximum safety inside and especially outside your home.
This item has the ability to fold up automatically when not in use and takes up very little space when stored. There is therefore no risk of obstructing you or blocking your passage on the stairs.
2. Impag GmbH Tom Safety Barrier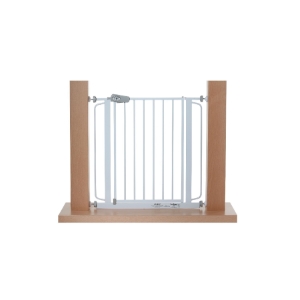 The van Hoogen TOM is a safety barrier for indoor and outdoor access 62 cm high and 148 cm long. In case you are using it as stair protection equipment, Y adapters are available to facilitate its assembly. Also, this "Tom" snap-fit ​​gate is ideal if you are one of those who live in rental homes or apartments. So you can install or remove it as you see fit, without damaging the wall walls.
This article complies with standard EN 1930: 2011. It closes and locks automatically thanks to its sophisticated lock system. The use of this product is therefore very simple. In addition, this barrier was made to open from the left or the right, according to your wishes. It has an automatic door, which makes it very practical.
The material of this safety equipment is metal. This design guarantees increased strength. So you won't have to worry about its longevity. Not to mention that, thanks to its manufacture, this article prevents the frames of your balustrades and doors from being damaged.
3.IDMarket White extendable mesh barrier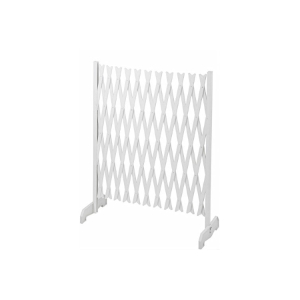 If you are looking for a practical, yet inexpensive, outdoor security barrier, we recommend the expandable IDMarket. The series can be adjusted according to your needs and is also the cheapest in our comparison. Compared to this adjustment ability, you can stretch its height from 53-87cm and length from 35-250cm. The gap between the ground and the bottom of this product can be changed from 8cm to 20cm.
This model is a special pet safety equipment. With this article, you will be able to regulate or block their access so that they cannot come and go in the rooms where you do not want to see them. You can also install it anywhere in your home, in front of a door or at the bottom of the stairs. This stainless barrier can be used both inside and outside your home.
This item was made with stretchable plastic. It therefore has a fairly long lifespan. What's more, its design makes the barrier easy to assemble. You can then remove it and place it somewhere else effortlessly. The product comes with screws in the package to strengthen it.
Purchase guide
If you are the parents of a child under 5 and have not yet thought about it, know that it is more advisable to have a security barrier installed in your house, but also outside. This will prevent possible accidents. This accessory is also necessary in case you have pets that like to come and go all over your habitat getting them dirty. With this one, they will keep quiet.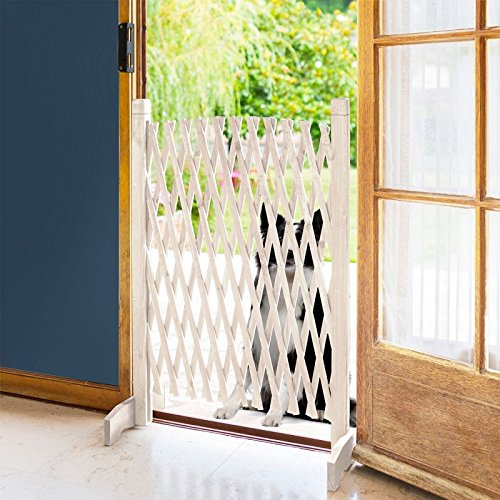 When a child starts to walk, he or she becomes very curious and wants to explore every corner of your home tirelessly. This is why the installation of exterior and interior security barriers is required. This will allow you to spare your cherub from accidental falls. It is also a good solution to prevent your dog from entering or leaving the house.
This protective barrier should not be selected hastily, but rather with great care. This is why we advise you to do a little investigation, based on strict parameters before proceeding with its purchase. So take into account its genre, its material of manufacture as well as its practicality.
Depending on the type of barrier, you will have the choice between a model with pressure fixing or a permanent fixing on the wall. The former can adapt to any access to your home, door or staircase, but it's mostly made for those who move quite often or for occasional use. The second piece of equipment is supposed to keep you going much longer.
Then you have to think about the design material. The reliability, strength and longevity of the utility vary depending on this parameter. There are barriers made of metal, wood and even mesh. Each of them has its own qualities and specificities. It is up to you to select the one that best meets your requirements.
Practicality is also to be considered if you want to acquire a good model of barrier. Indeed, this feature allows you to use the product without any difficulty. Some items can be opened with one hand, others are foldable for easy storage. Some specimens have a 3-action opening system to reinforce the security for your cherub.
Source link: The 3 Best Exterior Security Gates of 2022
– Thismumslife.com