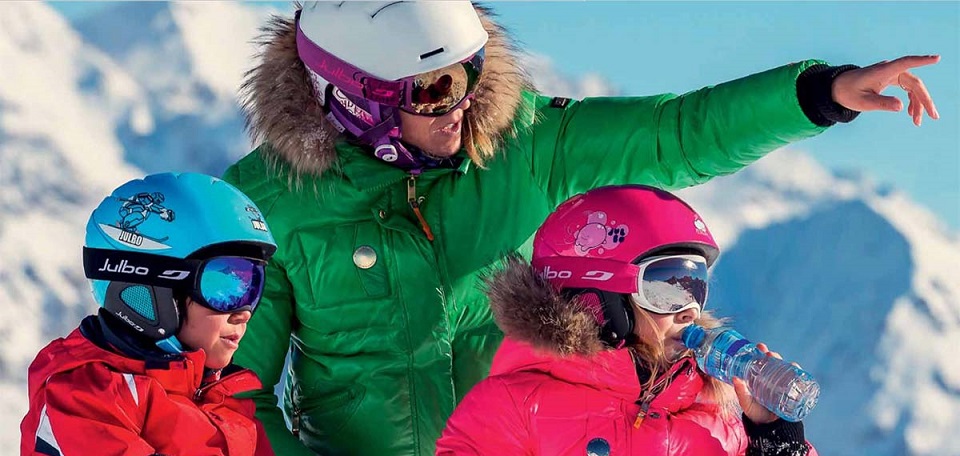 Children's ski helmets – buying guide, ranking and tests in 2022
For many people, skiing is a sport of passion. To be able to benefit fully and in complete safety, it will be necessary to obtain the appropriate equipment. Apart from skis and warm clothes, the helmet is one of the most important accessories.
This guide is intended for parents looking to purchase a helmet for their child. To find the best performing, you will have to take into account several criteria. It will obviously be necessary to find a model of the right size. For this, it is better to seek the advice of a professional. But, you have to think about safety above all. The best ski helmet for children must be equipped with a strong tightening strap that allows optimal support. You can then focus on the design. So the Roxy misty is popular at the moment because it perfectly meets user expectations with its ergonomics. the Salomon gear Grom, on the other hand, is the most fanciful in our ranking.
Comparative table

Good
The bad
Conclusion
Price
Recommended products
Roxy misty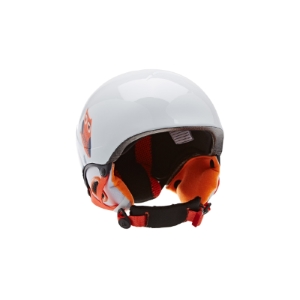 It's hard to decide which is the best children's ski helmet on the market. Indeed, we are spoiled for choice. The Roxy Misty model is also intended for snowboard enthusiasts. It stands out above all for its design and practicality. The plastic with which it was designed offers foolproof resistance. In addition, it is very light. You barely feel the weight of the accessory even when tired.
The outer surface of the helmet, where there is an owl pattern, is quite smooth and pleasant to the touch. For more comfort, the manufacturer equips it with EPS foam. In this way, the helmet perfectly conforms to the contours of the head and prevents moisture from entering while absorbing shocks. This component will also keep the wearer warm while hurtling down snow-covered slopes.
For the
Strength and reliability : When looking for the best brand of children's ski helmets, these two criteria come before the others. Made of plastic and with an EPS foam lining, this Roxy children's ski helmet fulfills these requirements perfectly.
Fun patterns: The little ones appreciate accessories with a character printed on them, as is the case with the two owls on either side of this product.
The cons
One size only: It seems that it is only sold with a single size (size 52). We will have to turn to blue for those who do 56.
Salomon gear Grom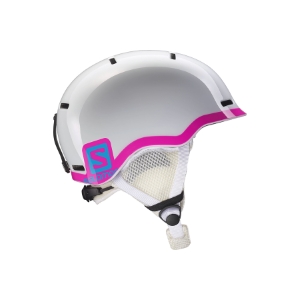 To answer the question of how to choose the best children's ski helmets of 2022, Salomon also offers you a large collection of unisex models. However, this white one with candy pink edges is intended for our budding skiers. Its contours are smooth, which gives a shiny appearance. This gives this specimen a certain style that fits well with the "board sport" theme. It is available in two sizes KS and KM.
The shell is made from a rigid plastic. It is able to absorb even the biggest shocks. The lining is EPS foam. This material, well known in the field of skiing, is prized for its ability to maintain an optimum temperature inside the helmet. It is also used for making various warm clothes. This component is removable, you can wear it with a hat. Finally, this article is available in several colors (camouflage, white / pink, blue / red, orange / fluorescent blue and pink).
For the
Comfortable : It fully protects the head. EPS foam is also ergonomic. It has a texture similar to that of a pillow.
In-Mold shell: This manufacturing technique allows the helmet to withstand shocks. Note that it complies with European standards CE-EN1077 and American ASTM F-2040 with regard to safety.
Several alternative colors: There is something for everyone with a fun and stylish color combination.
The cons
A little heavy: this is the only small downside otherwise it would be perfect. Moreover, this is hardly noticeable when having fun.
Bollé B-KID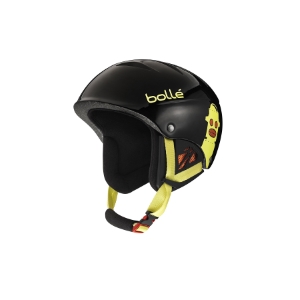 the Bollé children's ski helmet is one of the most popular with parents. Indeed, it has been designed to meet the needs of the little one ensuring performance, resistance and comfort. This is why it has been certified as conforming to the test carried out for the standard CE EN1077, imposed by the European community. In-Mold is a technology that many ski equipment suppliers are inspired by.
This means that the helmet is made up of three parts. For this one, we have on one side the plastic shell in oval shape. This allows the helmet to be put on without difficulty. On the other, we have the interior EPS foam. It's thick enough to keep warm and soft enough for optimal comfort. To complete it all, we have equipped it with a click-to-fit fastening system so that it adapts to all sizes. All that remains is to put on the goggles and the child is ready to ski.
For the
Sophisticated : The Bollé B-Kid is a fairly successful product. Opinions are unanimous on its reliability and performance. Everything has been thought out to ensure maximum safety for the child, especially with the In-Mold technique. In addition, it is sold at a very cheap price.
Ventilated: EPS foam needs ventilation for more than optimal performance. As a result, the manufacturer did not forget to drill the upper part for better air circulation.
The cons
One size only: This model is intended only for children with a head outline of 49-53 cm.
How to choose a good children's ski helmet?
Extreme sports such as skateboarding, rollerblading or even climbing require special safety equipment to be worn. Indeed, without this type of device, it would be too dangerous, even fatal, to indulge in this type of practice. So, if you want to introduce your children to skiing, for example, you must equip them with a helmet to protect one of the most important parts of his body, namely: his head. In choosing this material you should consider the following points: size and shape, safety devices and design.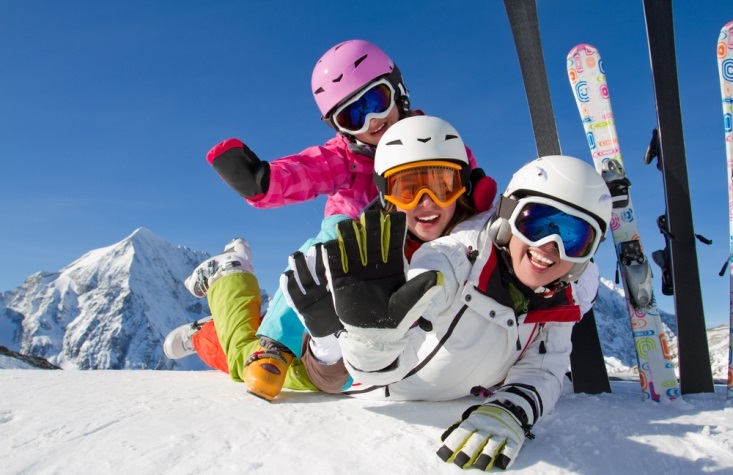 Purchase guide
Size and shape
In any buying guide for the best self-respecting children's ski helmets, you will definitely distinguish a few lines about the size and shape of the equipment in question. Indeed, these are the main criteria that should not be overlooked when choosing this type of product. The comfort as well as the well-being of your cherub will depend on these characteristics.
So, when you go over these details, you will need to define the circumference of your little one's head. This by considering only the most important circumference of this measurement. It is only after that you can determine exactly which model will correspond to your little one.
Safety devices
Answering the question how to buy a better value for money children's ski helmet is not difficult if you follow the right advice. Safety devices are systems that you should never ignore.
The tightening straps will be the components you will need to check in this regard. There are in particular at the back of this type of product and also at the front of the latter. These fasteners will allow you to adjust the equipment to the shape of your cherub's head. However, make sure that this engages them in the best way.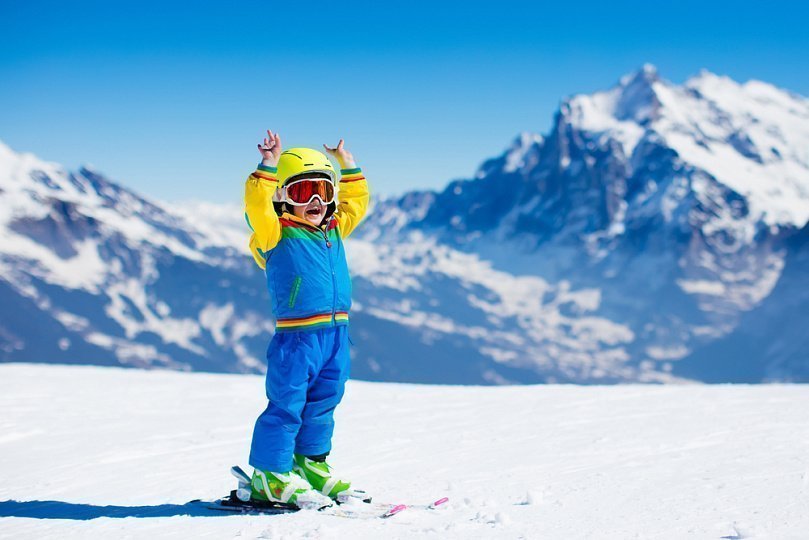 Design
If you already have an idea of ​​where to buy a new children's ski helmet, but you do not yet know which model to take, we suggest that you dwell on the design of the article in question. Note first that this kind of equipment has holes at the top. These have been specially installed to ensure ventilation inside the equipment. This in order to evacuate the maximum of humidity. The comfort of your little one will then be guaranteed. Also note that the number of these perforations differs from one specimen to another. Some will have two, others eight, and the more efficient ones will give you the possibility of regulating the ventilation thanks to a system of closing of these openings.
On the other hand, you will find references on the market with or without visor. If your toddler must wear corrective glasses, opt for an item with this device. This will further guarantee his well-being. If you have doubts about your budget, do not hesitate to consult a price comparison. There are several on the web.
Source link: The best children's ski helmet
– Thismumslife.com